Hello! Anyone out there!? I know there is one person out there reading this blog (Hi, Stephanie!), so I felt it proper to keep this adventure truckin'! Er, motorcyclin'! If all you know about me is what you've read on this blog, then you probably don't know the answer to "what ever happened to Nichelob" for the past 2,392 days, do ya? Let's see, that's a long time, let's make a list:



Quit my cush job (without having another one lined up) shortly after TAT 30.2.1.1
Had a great friend (actually, my manager) use word of mouth to find me the job that I really wanted (actually changed my career path completely)
Got into business intelligence consulting (which I'm currently still involved in)
Bought/Sold a KTM 690 SMC
Bought/Sold a KTM 990 Adventure
Bought/Had Stolen a 2008 SV650 (along with the brand new enclosed trailer it was parked in)
Bought/Sold a 2008 CBR 1000
Bought a 2014 KTM 1190 Adventure (In DC when my flight was canceled)
Broke my collar bone at a track day
Drove some Honda 600 around Lake Geneva in Switzerland/France in the middle of a...
...mini adventure from Columbia, SC to Indianapolis MotoGP to St. Paul, MN to Switzerland to Minneapolis to Columbia, SC via the 1190, and some jets.
Sold my house in Charlotte
Bought (and currently selling) a house in Columbia, SC
Had my longest relationship (2 years)
Moved to Richmond, VA
and I lost my long time friend, Ms. Shady Lady.
Believe it or not, there is more at the lower elevations but this is your 30,000ft viewpoint for today!
Anyway, as I mentioned at the beginning of this post, I have a reader! Woot! And a mighty fine one at that. I don't believe I know anyone besides myself and a few close friends who've read it all, so this is the reason I've been paying to keep my domain active for all this time. I knew someone would enjoy it, ha!
Anyhoo (I've already used "anyway"), let's just jump right into today's adventure. Actually, let's gather some background from this past weekend first. We'll use pictures to do the talking:
Alright, are we clear? That's a lot of California sunshine riding! 550 miles of it on the FZ-09. Pretty cool bike once I figured out the sport mapping and super high revving power band.
So, that was the weekend in a nutshell and today is Wednesday. I'm currently on a client site here in Woodland Hills, CA (which is why I had time over the weekend to rent this bike and ride).
So, I've been battling some sort of sickness since I woke up Monday. It's the first time that I've been sick in quite some time (excluding alcohol poisonings here and there, ha). It's basically just sinus congestion and a cough. I've been fighting the best I could with OTC stuff, teas, soups, oranges, voodoo, origami, ignorance, etc.. I like to go a round or two with sickness myself before I call in for backup. I've been up and down all week; thought I had it licked, and then bam, more coughing, phlegm and soreness.
So, this morning (man, it sure has taken me a while to get into today's post aye? I guess that's what happens when you don't post for over 2,000 days). I wake up feeling presentable and good enough to join the breakfast buffet crowd. I ate a fantastic breakfast and no one (as far as I could tell) noticed that I was under the weather still, Doing good. So I walked back up to the room, brushed my teeth, called up my car and started driving into work. Then the sweat. Lots of it. Kind of like this: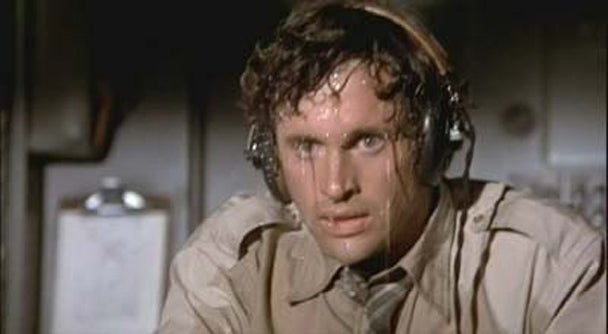 That's basically what my shirt looked like when I walked into office. We've been having a stand-up meeting every morning when I walk in, so I didn't even try to fight it, I couldn't. I had a small amount of hope that no one would notice, but that quickly disappeared when my primary contact here saw me and let out a big "DUDE! YOU'RE DRENCHED" Not long thereafter, I had about 6 or 7 folks, basically everyone within site, staring at me in a noticeably long silence... ... ... I'm like, "What?" Haha. I didn't feel sick and I thought this meant that I was done with whatever I had. A little sweat never hurt anyone, let's get to work yall, I'm fine! So, I eventually stop sweating and get to work. And work was productive. I wasn't too hungry for lunch so I just got a cayenne carrot from jamba juice. I stroll back in and get back to work when I start shivering. A noticeable shiver, and enough shiver to throw my voice up and down in sync with the shiver, shivering. So, I walked in this morning and greeted everyone while I was drenched in sweat and departed shivering like I had just walked out of a meat freezer. Somewhere between my departure and my arrival at the hotel, the shivering turned into pure heat, but no sweat. Whiskey Tango Foxtrot?
I plop down on my bed and think things over as I notice a headache now and confused as to why I wasn't sweating. I guess I better check my temperature. I call the hotel operator and ask for a thermometer. They find one in the gift store, I expense it to my room and they bring it up here. 101F. Super. Haven't seen my temperature that high ever, like I said, I'm rarely sick. So, this is day 3 or 4 with symptoms, weird things are happening, let's hit that urgent care facility across the street.
As I drive in, there is a standard LA 20-something dragging his feet towards the urgent care door. So, I actually cut him off a little bit and was going to hop out and get in front of him (I know, I'm a dick sometimes), but it was a prime spot and, of course, reserved for the "Doctors" haha. Nothing like having the best parking spots reserved for the doctors at an URGENT care facility. Anyway, I let LA dude walk past and I back into another spot. As I'm walking in, starting to sweat again, I hear "bad dreams". Apparently that is why LA dude needed URGENT care at 4:04PM. As I wait, I hear that his copay is zero. Interesting. He whispers some things to them for another minute or two as I'm building a nice pool of sweat waiting patiently (well, impatiently) behind laughing at how the doc was going to see bad dreams guy before the sweating and coughing white guy. He kept motioning to sit down but would go back and ask another question. Finally, I get up there and my freaking copay is now $75. Something isn't right here, but I would digress.
Anyway, I sign my life away and take a seat. I brought my thermometer with me, so I take another reading 102.5F. Holy crap. Is this bad? I knew 104 or 105 was pretty bad, and I didn't like the way this was headed. Me and LA dude sit and wait. Me still sweating and coughing. I take a peek at the TV. Breaking News. New superbug in LA, 2 dead, 100 infected. Sweet! After all the places I visited over the weekend, it wouldn't surprise me to have this new superbug. So, this doesn't help the sweating.
About 10 more people come in, all looking rather healthy and we all sit and wait... and I sweat. Sure enough, LA dude gets the first call. I sweat some more and cough here an there. I get my name called and sit in another room by myself for a little while. Then comes the notes taker, after she has all the notes, she asks, "is that sweat?" I should have quipped, "you aren't the doctor are ya?" But I just confirmed. Her temp was 99F but I was sure that was b/c I had just drank some cold water. So I sat for a bit while she disappeared not drinking any more water. She walked about a few minutes later and asked her to take my temp again. She said, "it went up?" "yep" And she obliged and said "you're right, it's 101.5F now" See, this ain't no joke!
About 15 minutes later the single doctor gets around to seeing me. Typical doc, asks if I have congestion, I mention nasal congestion and he says, "Yeah, I can tell that". Then why'd you ask dude!? Orders a flu test and walks out. They swap deep into my nose, 10 minutes later, the lab worker walks out saying, "It's positive! It's positive!" Like she won the lottery or something. Then the spanish kicks among the whole staff. I'm pretty sure they do this so I can't listen in.
So the doctor strides back in, hands in pocket, eyes squinting like he's a genius. "You have the flu. I will prescribe you tamiflu. You also get claritin d, vitamin c and drink plenty of fluids. You need a note for work?" "Sure" "Okay, we write you up for 3 days. You rest" He strides out as confidently as he strode in, case closed! What a pimp this dude is. Haha.
I go to Rite Aid to pick all this up and the line to the pharmacy stretches halfway to the front counter. And it doesn't look like anyone has moved all day. So maybe I'll get in the morning, but for right now, I'm going to bed!